List of Main Characters
Edit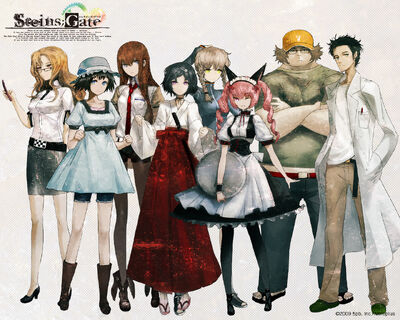 Side CharactersEdit
Minor CharactersEdit
4°C (reads 'Shido') - ( CV: Minoru Shiraishi). Shido is the leader of Viral Attackers, a group of delinquents that play the popular board game "Rai-Net Access Battlers". His craziness almost rivals Okabe's.
Woman of Sambo - (CV: Yuuko Ushida) a shopwoman of gyudon restaurant. She is known for often warning the lab members of the strict "No Cellphone" rule.
FES - (CV: Yui Sakakibara) is the lead vocalist of indie band Phantasm, from 5pb/nitroplus game Chaos;HEAd. She sings the false ending theme of Steins;Gate. Her image is seen at various points in the visual novel, such as on screens in front of UPX.
Lightning Fast Neidhardt, is the handle name of online-MMORPG player Takumi Nishijō, who is somewhat infamous on internet communities such as @channel. He is the protagonist of the game Chaos;HEAd. He is mentioned once by Daru in the visual novel and makes an appearance in the spin-off Steins;Gate - Variant Space Octet.
Fubuki and Kaede. Mayuri's cosplay friends. Fubuki requested Mayuri to fix her costume which Mayuri had made for her.
Mother and boy (CV: Toa Yukinari, Mai Hirano): On Manseibashi bridge at 13-Aug-2010 17:20, the two talked about white Shinkansen bullet train.
Anime within Anime CharactersEdit
from "Rai-net Kakeru"

Takeru - main hero
Kirari - heroine
Upa- Takeru's digital pet and legendary program.

from "Blood Tune the Animation" (also from Chaos;HEAd) [fictional Official Site]

Seira Orgel - main heroine
Sedona - rival bounty hunter

from "The Familiar of Zero

​Louise - main heroine. Quote: "Are you stupid? Do you want to die?"

Gero Frog (Gerokaerun)
​ Popular mascot series from Chaos;Head.