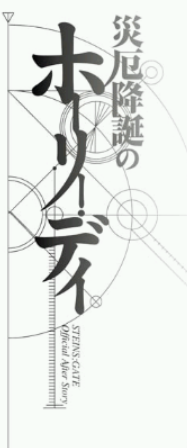 Holy Day of Scourge or The Disastrous Holy Day (災厄降誕のホーリー・デイ Saiyaku Koutan no Holy Day?) is a short story originally published in the Chaos;Head & Steins;Gate Science Adventure Series Maniacs (カオスヘッド&シュタインズ・ゲート 科学アドベンチャーシリーズ マニアックス) information book, ISBN 978-4798601465. The story takes place after the True End of the visual novel and the ova episode of the anime series.
In December in Akihabara, Okabe Rintarou is suffering from PTSD due to the events of the summer when he receives a letter from Makise Kurisu on December 14th, his birthday. However, things start to go wrong when Tennouji Nae suddenly goes missing on Christmas..
Ad blocker interference detected!
Wikia is a free-to-use site that makes money from advertising. We have a modified experience for viewers using ad blockers

Wikia is not accessible if you've made further modifications. Remove the custom ad blocker rule(s) and the page will load as expected.