Kayano

Name in Japanese
伽夜乃
Romaji Translation
Kayano
Personal Info
Age
16-18 years old
Birthday
N/A
Blood Type
N/A
Height
Around 163 to 170cm
Weight
N/A
Vital Stats
N/A

Kayano (伽夜乃 Kayano?) is an antagonist first introduced in the spin-off manga Rebellion of the Missing Ring.
Appearance
Edit
Kayano has long black hair and wears glasses. She also appeared wearing an Upa mask when acting as Rounders.
Personality
Edit
Background
Edit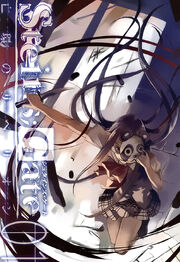 Ad blocker interference detected!
Wikia is a free-to-use site that makes money from advertising. We have a modified experience for viewers using ad blockers

Wikia is not accessible if you've made further modifications. Remove the custom ad blocker rule(s) and the page will load as expected.