May Queen Nyan-nyan
Comments

2
92pages on
this wiki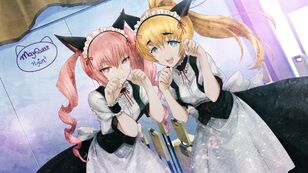 May Queen Nyan-Nyan is the maid cafe that
Faris Nyannyan
and
Mayuri Shiina
work part-time in. When Faris sends her D-mail to prevent her father's death it turns into a simple ramen shop.
The uniform consists of a maid headband with ribbons and two long cat ears attached to it. The maid outfit is a plain black short-sleeved dress with lace and an apron over it. There is also a black vest over the apron that has a greyish belt around it. The uniform also has red detail and red ribbons on it.
Faris is the most popular waitress there, as well as the owner of the establishment.