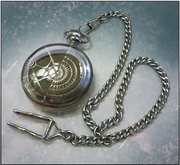 Mayuri Shiina
's pocket watch. It's an antique pocket watch that her grandmother gave to her, It's very precious to Mayuri.
In the Alpha World Lines, Mayuri looks at her watch and remarks about how it has stopped working, this is used to symbolize that her time is up and is quickly followed by her death.
Ad blocker interference detected!
Wikia is a free-to-use site that makes money from advertising. We have a modified experience for viewers using ad blockers

Wikia is not accessible if you've made further modifications. Remove the custom ad blocker rule(s) and the page will load as expected.