Steins;Gate Symphonic Material
is an orchestral arrange album published by 5pb. Records on May 24th, 2012. It was bundled with the PS3 Steins;Gate Double Pack (FVGK-0061). In 2013, it was re-released with additional songs as 
Steins;Gate Symphonic Reunion
.
Track List
Edit
Skyclad Observer/Kanako Ito (PC game Steins;Gate OP)
Explanation
Laboratory
In the Moonlit Night of Preghiera/Phantasm (cv: Yui Sakakibara) (PSP game Steins;Gate ED)
hesitative consideration
Space Engineer/Kanako Ito (PSP game Steins;Gate OP)
Assailant
OPERATION SKULD
Nonlinear Geniac
GATE OF STEINER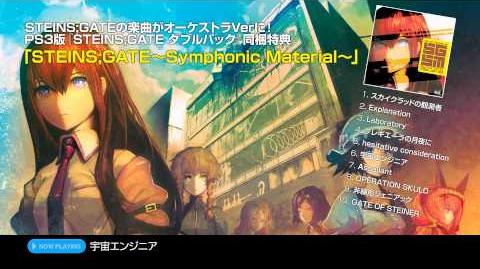 References
Edit
Ad blocker interference detected!
Wikia is a free-to-use site that makes money from advertising. We have a modified experience for viewers using ad blockers

Wikia is not accessible if you've made further modifications. Remove the custom ad blocker rule(s) and the page will load as expected.